Alan Enns, CPA, CA
Partner, Aylmer Office
Alan has been a partner in Aylmer since 1991 and is well known in the business community. He offers thirty years of general practice experience with a focus on owner managed businesses, especially in the service, manufacturing and agricultural sectors. He also has significant experience in personal and corporate tax planning arrangements.
Email Alan Enns
519-773-9265 ext. 301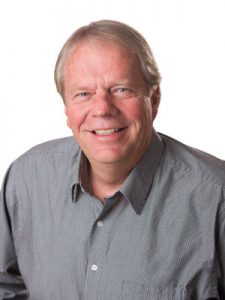 John Scott, CPA, CA
Partner, St. Thomas Office
John is also an original partner in the firm. Though he has worked with a wide variety of organizations and individuals with their audit, accounting and taxation needs, his particular expertise resides in the realm of small to mid-sized businesses and not-for-profit organizations.
Email John Scott
519-633-0700 ext. 202
Rob Foster, CPA, CA
Partner, St. Thomas Office
From his start with the firm as a co-op student, Rob worked his way up to partner at GSE. Rob has a strong practice in owner-managed businesses, municipalities' audits, and farming and Ag-business clients.
As an Elgin County farmer himself, Rob's heart belongs to the land and those who work it. He enjoys assisting with the annual compliance and planning needs of farmers – and in the family transitioning of farming operations. That keen interest in family run operations carries through to his other clients in many other sectors.
Rob also serves on Yarmouth Mutual's board of directors.
Email Rob Foster
519-633-0700 ext. 204
Jim Frederick, CPA, CA
Partner, St. Thomas Office
Jim serves a broad range of clients, including entrepreneurial businesses and professionals, who appreciate Jim's guidance on beneficial corporate tax structures and succession plans. He is an advocate for lifelong learning as an aspect of superior client service. His CICA in-depth taxation training is just one example of his commitment to getting to know more in addition to getting to know you.
When he is not on the job, you might find Jim on the ice. He continues to be actively involved with the St. Thomas Curling Club, where he is past president.
Email Jim Frederick
519-633-0700 ext. 205
Bill Luyks, CPA, CA
Partner, Aylmer Office
Bill's strong family ties to farming backs his expertise assisting clients with agricultural operations, but Bill's areas of expertise also include manufacturing, service and not-for-profit enterprises. He has taken the CICA in-depth tax courses and is especially interested in strategic assessment and development of corporate structures and long-term transition plans.
Bill is active in the Elgin Federation of Agriculture, and has also coached youth soccer.
Email Bill Luyks
519-773-9265 ext. 303
Mike MacKinnon, CPA, CA
Partner, St. Thomas Office
Close to twenty years of public accounting experience and seven years with two owner-managed companies in a senior financial capacity backs Mike's specialization in assurance engagements (audits and reviews) with owner-managed and not-for-profit organizations. His practice also includes a large number of pharmacists across southern Ontario.
Mike has been active with the Rotary Club of London-Lambeth for the past nine years and is treasurer for the Shamrock Hockey League and the Elgin Branch of Western University Alumni.
Email Mike MacKinnon
519-633-0700 ext. 206
Mike Stover, CPA, CA
Partner, Aylmer Office
Mike is adept at compliance and taxation planning. He has built a career on assurance engagement assistance for owner-managed companies in the manufacturing, service and not-for-profit sectors, and has served as chair of the GSE's assurance committee for several years. Mike's willingness to go above and beyond brings results and additional value to his clients.
Mike is a past Board member of the Aylmer Chamber of Commerce, is the long time treasurer of the Ontario Mini Tractor Pullers Association, has served on the Aylmer Economic Development Liaison Committee, and is on the Board of the East Elgin Family Health Team.
Email Mike Stover
519-773-9265 ext. 302
Paul Schneider, CPA, CA
Partner, St. Thomas Office
Paul, who joined GSE in 2009, looks after a wide range of clients in audit, accounting and taxation, from owner managers to not-for-profits. Promoted to partner in 2016, Paul looks forward to continuing to serve the firm's clients in the highly personalized way that characterizes his client relationships.
Email Paul Schneider
519-633-0700 ext. 220
Tax Partners
Garth Howes, CPA, CA
Tax Partner
Garth joined GSE in early 2012 after a successful tenure as a senior tax partner with a national firm. Garth is driven by his desire to practise with an intimate and personal sense of client service.
His in-depth expertise in taxation planning and business advisory services to family-owned companies has further strengthened the firm's tax group. Garth enjoys meeting clients at the St. Thomas and Aylmer offices – or at their own locations all across the region.
Email Garth Howes
519-633-0700 ext.203
Derek Michell, CPA, CA
Tax Partner
Having joined GSE in 2011, Derek now devotes much of his time assisting our clients in longer term taxation and succession planning, working together with our Tax Group, as well as continuing to assist many owner manager clients with their ongoing requirements.
Derek completed CPA Canada's In Depth Taxation program in 2015 and enjoys working together with our other partners and staff to deliver tangible yet personal solutions to many of GSE's clients. Derek works from both the St. Thomas and Aylmer offices.
Email Derek Michell
519-633-0700 ext.222
Retired Partners
Bill Graham, CPA, CA
Retired Managing Partner
Bill's strong interest in people – both at a professional and personal level – has helped build the firm. While Bill retired in December 2015, his influence on the firm's culture and on the clients he worked with continues to be felt each day at Graham Scott Enns. Bill's keen interest in our clients' success and his determined efforts in looking out for his clients' best interests has won respect and results – including the ongoing friendships with many clients. GSE's comprehensive and highly personal approach continues to have Bill written all over it.
People-minded and service-focused in his personal life as well, Bill continues to serve on the St. Thomas-Elgin General Hospital Foundation capital campaign fundraising committee, and he looks forward to running into friends as a member of the St. Thomas Golf & Country Club. He and his wife Ann also look forward to spending more time in retirement taking walks and visiting with their kids and grandkids.