Celebrating the success of a hard-working colleague, and watching their progress as they learn and grow, is one of the most rewarding journeys business teams take together.  Today at Graham Scott Enns LLP, the Partners and staff are ecstatic to acknowledge how far Blake Gough has come in his own journey by announcing his immediate promotion to the role of Manager!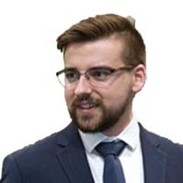 Through years of exemplary customer-service, dedication to hard-work, and with his passion for making the firm a better place to be, Blake has shown that he is an integral member of the GSE family and community, and one of our brightest up-and-coming stars.  He has well-earned this new role.
"Blake Gough provides attentive professional service to many of our clients. He works seamlessly across a diverse range of industries including not-for-profit, municipalities, owner-managed smaller business, professional corporations, and personal tax clients.  Within our Firm, Blake is actively involved in organizing staff social events and training junior staff members.  Blake is a most welcome addition to our manager team.  Congratulations Blake!"
Jennifer Buchanan
Partner
We wish to congratulate Blake at the start of this exciting new stage of his career, and we encourage everyone to take this opportunity to celebrate Blake's accomplishments!