Highly Motivated Professionals
Congratulations to our successful CFE writers
Jacob Perry, Mary Jane Miller and Blake Gough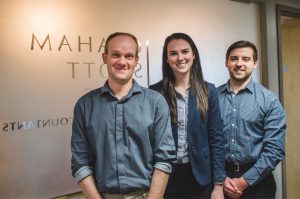 The future is bright for this talented group of professionals on their way to becoming Chartered Professional Accountants!
Jacob, Mary Jane and Blake all started with GSE at our St. Thomas office through their university co-op placements.
Blake joined the firm full time in 2016 and Jacob and Mary Jane in January 2017.
All of us at Graham Scott Enns are very proud of the dedication they have displayed in their preparation for the CFE and join them in celebrating the successful passing through the examination process.